Indo-Japanese Martial Arts Kalari to Karate Demo and Workshop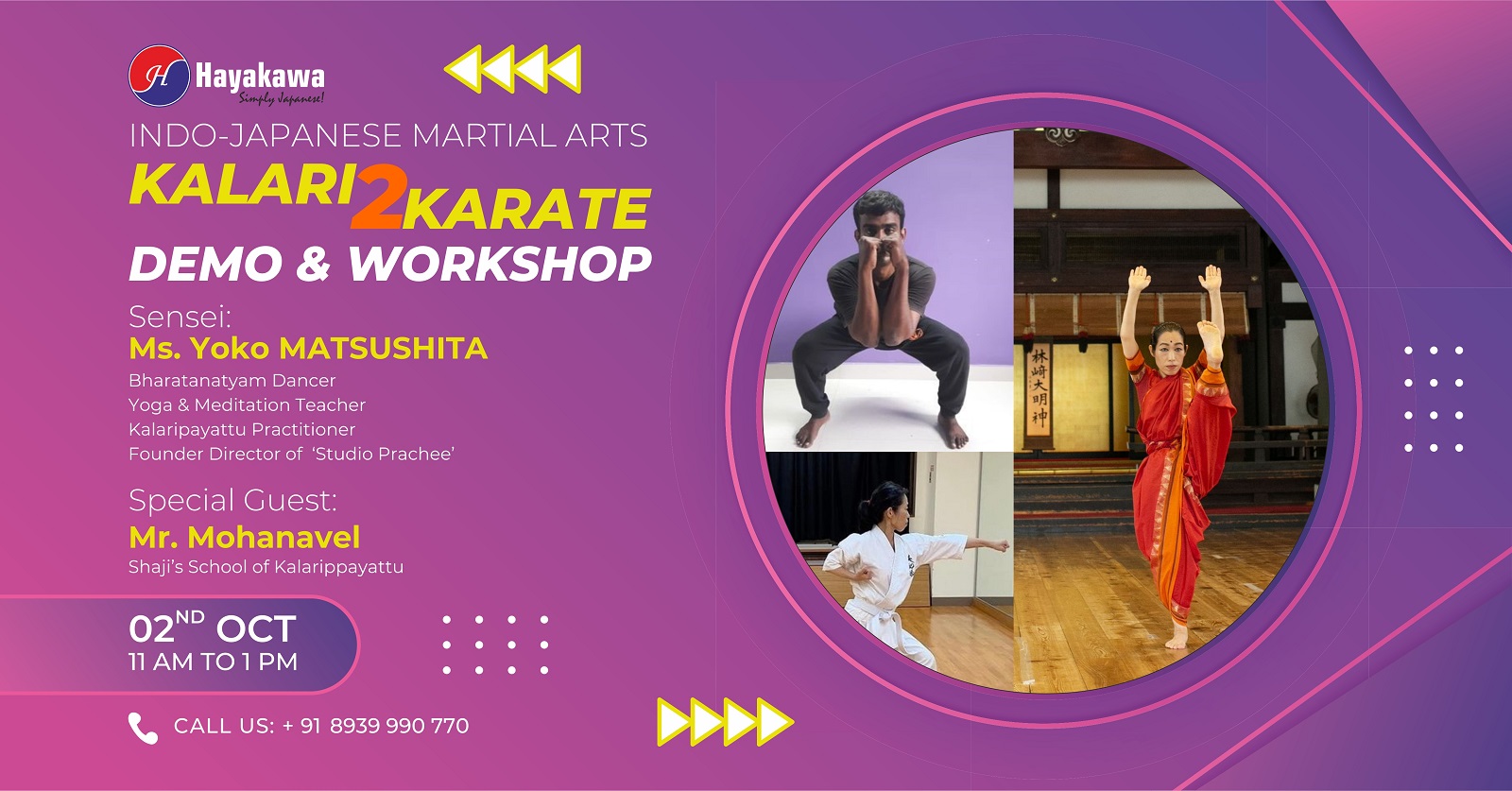 Hayakawa Japanese Language School & Cultural Center
PS
---
Entry is FREE! This event is only for the current/ex-students of Hayakawa.
Details
---

We are delighted to invite all our current and former students to a Indo-Japanese Martial Arts Kalari to Karate Demo and Workshop.

Date: 02nd Oct, 2023
Time: 11AM to 1PM
Venue: Hayakawa Japanese Language School & Cultural Center

Yoko Matsushita Sensei:

Yoko Matsushita Sensei is a prominent figure in the world of martial arts. She started her martial arts journey in Japan in 1992.

In 1994, she began learning the Indian classical dance form from Padma Bhushan Awardee Prof. C.V. Chandrasekhar in India. This indicates her deep connection to Indian culture and arts.

Yoko Sensei also expanded her martial arts knowledge by learning Kalaripayattu, often referred to as the "mother of martial arts," under the guidance of Sri Shaji John at 'Shaji's School of Kalaripayattu' in Chennai. Kalaripayattu has its roots in Kerala, India, and is considered as one of the oldest martial arts in the world.
It's mentioned that Kalaripayattu is recognized as the "mother of Martial arts" and is known for its origins in Kerala. Additionally, it's noted that Kalaripayattu played a role in influencing the development of Karate and Shorin-ji Kenpo.

Workshop on Kalaripayattu:
The event includes a workshop on Kalaripayattu, which allows participants to learn about this ancient martial art form. The workshop will cover its history, principles, and basic techniques.

Workshop on Karate (Gissen-Karate Eiki-Do):
Another workshop is offered, this time focusing on Karate, specifically Gissen-Karate Eiki-Do. Participants can learn about the principles, techniques, and philosophy of this Japanese martial art.

Kalaripayattu Demonstration:
Yoko Sensei will also showcase a demonstration of Kalaripayattu. This could involve impressive displays of Kalaripayattu techniques, showcasing its unique movements and skills.

The event organized by Hayakawa is a celebration of the fusion of two martial arts traditions - Kalaripayattu and Karate. Attendees will have the opportunity to learn, experience, and witness the rich heritage and techniques associated with these martial arts, all under the guidance of Yoko Matsushita Sensei, who has devoted years to mastering these disciplines. This event not only promotes physical fitness and self-defense skills but also fosters cultural exchange and appreciation for the martial arts of India and Japan.